Our Story
Our Story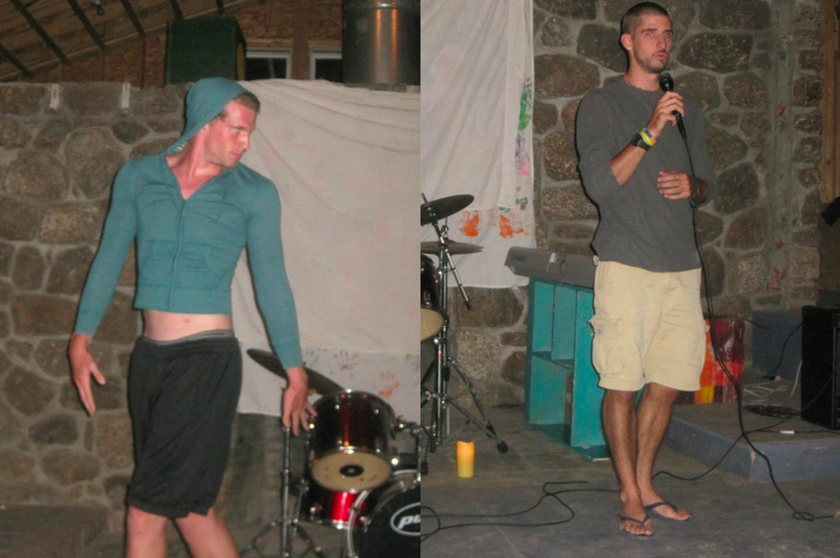 Welcome to our wedding website!

Before you begin, please play this song in the background, it will enhance your experience.
What we have here is the very first night I (Jack) laid eyes on Sean, July 3rd, 2012 during the set up week before Wediko Children Services' Summer Program. During a staff "Coffee House/Talent Show" Sean sang "Temporary Home" by Carrie Underwood. I got teary eyed and was like "Damn, this guy's voice is incredible and he is extremely attractive, save for the Claire's stud earring in his left ear."

I (Sean), also noticed an extremely attractive man during the Coffee House. He seemed to be seven feet tall, and was wearing basketball shorts (which I would come to realize were basically his uniform), and a slightly too small zip-up hoodie. Enya's "Only Time" started playing and Jack then proceeded to do an interpretive dance with a partner, complete with lifts, rolling on the floor, and intense eye contact. It was the start of a little bit of a crush, on this adorably goofy and sweet man.

By the end of the summer, we finally started talking and found out Jack was going to grad school 20 minutes from Sean's family's home. So thus began our relationship.
Six, not so long years later, and multiple "fake proposals, (Awful idea, wouldn't recommend it)" I asked Sean to be my husband, for real, for real... No Taksie Backsies.
It started like any normal Saturday morning, Jack had wanted to go to the beach, really early, and had been talking about it all week. I'm not a fan of mornings, so this was particularly difficult. We got to the pier, and it was a beautiful morning. I got up to leave and asked for a few more minutes. He talked about our journey and how much he loved me. He got down on one knee, and asked if I'd marry him. I was somewhat in shock, and wasn't sure if he was serious or not, so of course, I ask him "Are you serious?" He says yes, "no taksie backsies," to which I responded "YES, OF COURSE!" One trip back to the Moore household and a flight home to Maryland, we were able to celebrate our engagement with our families.

Finally, an abundant and special THANK YOU to all who have and continue to support and love us individually and now together as we move forward in our lives together.
The Wedding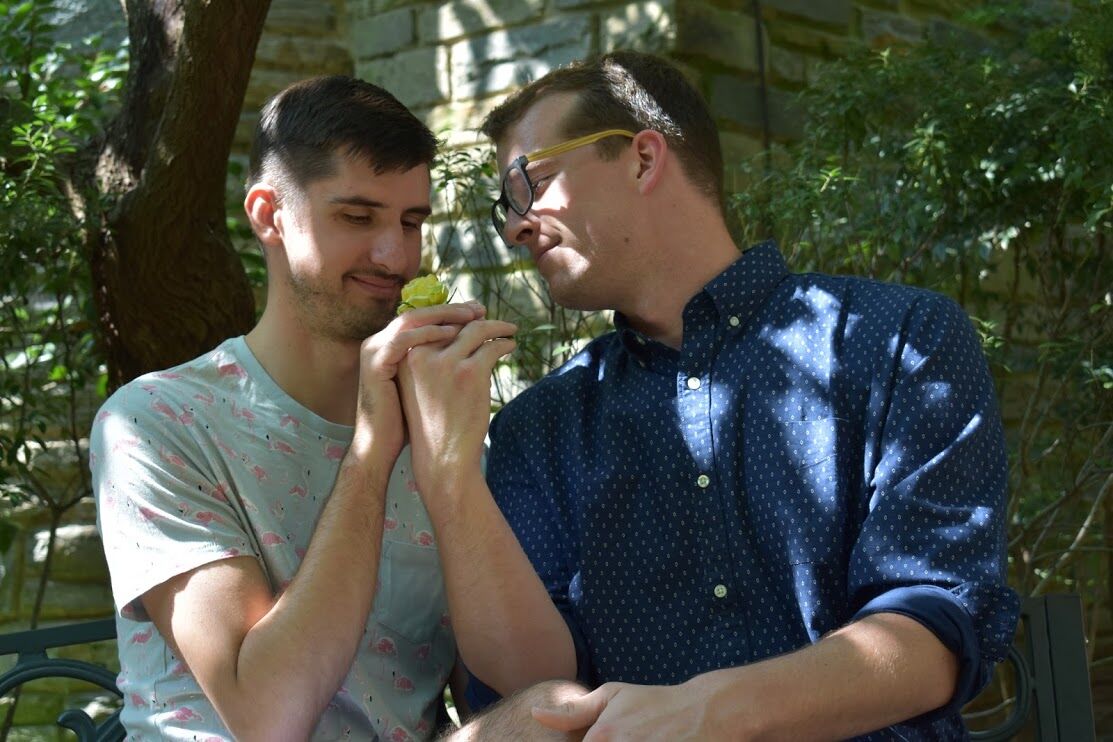 Saturday, October 5, 2019
4:00 PM
The wedding ceremony will take place at 4:00pm at All Saint's Episcopal Church. The reception will take place at the Irish American Heritage Center, and will begin at 5:30pm. There will be transportation from All Saint's to IAHC for those staying at the Marriott Hotel. Please see Accommodations and Transportation pages in our website for more information.
Other Events
Friday - Welcome Party at O'Shaughnessy's Public House
Friday, October 4, 2019
9:00 PM
O'Shaughnessy's Public House
4557 N Ravenswood Ave, Chicago, IL 60640, USA
Starting at 9pm, please join us at O'Shaughnessy's to start the weekend off right! Grooms will be leaving promptly at 11pm to get ready for the big day! Welcome Party will be cash bar.
IAHC - AFTER PARTY!!!!
Irish American Heritage Center
AFTER PARTY!!!!!- The Irish American Heritage Center has a Public Pub that is open until 1am. Live music is almost always playing on Saturday nights! At 10pm when the reception ends, the married couple will meet those guests who don't want the party to stop on the first floor where the Pub is located! After party will be cash bar.
Sunday - Brunch at Chicago Marriott O'Hare
Sunday, October 6, 2019
9:30 AM - 11:30 AM
Chicago Marriott Suites O'Hare
The morning after the reception, join the married couple at the Marriott for brunch, which is discounted at $13 for those staying at the hotel. The brunch will be $22 for those not staying at the hotel.
Wedding Party
Maria Smith-Vasquez - Matron of Honor
Maria is the person who has known me the longest, and who knows me the best. She's the king to my queen and my bestest friend. It is my honor and privilege to have my favorite twin as my matron of honor. #twinning
Justin Gabuten - Best Man
Justin has been my best friend since we decided to both pick up the clarinet in fourth grade. The rest is history. Justin is a loving, and caring friend, always ready to misunderstand a joke and tell you about his latest travel plans. I am honored to have him as my best man.
Joseph Smith - Groomsman
The oldest of the OG Smith children and my big brother is the person I know with the biggest heart. He's taught me what to do (and not to do). The leader of team Smith will be the one getting EVERYONE onto the dance floor.
Nathan Smith - Groomsman
The oldest of the younger Smiths, Nathan Smith, culture aficionado, has been a great support for me and for Jack from the beginning. He's someone I absolutely look up to, and is so honest and loyal. He's, TBH, just the best.
Matthew Smith - Groomsman
The middle of the younger Smiths, Matthew is a former youngest Smith child living his best life. In a twist of events, Matthew is now known as the most domesticated of the Smiths, with 11 dogs, 8 cats, 5 birds, 3 Swedish Fish, and 2 llamas and one chinchilla! He's a introverted extrovert who will BRANG the party.
Kasey Smith - Groomswoman
The newest of the Smith gang, has been a constant support for Jack and I, and a moral support for Jack at all Smith gatherings and functions. I'm SO SO glad to have my new sister in my wedding party!!
Saul Smith-Vasquez - Groomsman
The second most-recent addition to the Smith family, my sister's husband Saul is a kind, compassionate soul, with an abundance of love to give. I had the honor of being his best man, and was ECSTATIC to ask him to be in my wedding. And his wine...yasssss queen.
Daniel Smith - Groomsman
Rounding out the wedding party is the youngest Smith, Daniel Anthony. A man who needs no introduction, he is, well, the youngest of six, and somehow an only child at the same time. He's the best youngest brother a guy could ask for.
Donny Moore - Best Man
As stated at his wedding, Donny is the best-worst brother in that he was great in showing me what NOT to do and the best at always being there and supporting me in whatever I do. Now he's the Best Man that will for sure bring his epic white-boy moves to the dance floor.
Allison Lynch - Matron of Honor
Allison used to fight over me, then with me, and now, I couldn't imagine having any other Kween next to me on my wedding day. Don't let her photogenic smile and great style fool you; she'll be the first one to rage on the dance floor!
Kelly Moore - Groomswoman
My sister-in-law, one of #S'more's biggest fans and supporters not only throws the best shade as pictured, but brings the fun wherever she goes.
Ryan Lynch - Groomsman
Don't let his Twink-like features fool you, my brother-in-law and keeper of the peace has been a straight ally to Sean and me since he knew about us; he also has some epic dance moves, inquire within.
Sean Keil - Groomsman
The OG Sean, by my side since the 1st (ish) grade, went to school through high school, played basketball and volleyball together, and just crushing the game since. Look for him to bring the needed goofiness to the wedding party!
Alfredo Echeverria - Groomsman
Ms. Saviano had two favorite students in preschool, Alfredo and I. Two peas in a pod, we've remained friends since. Alfredo is the friend that is always there and always willing to tell you what's what, even if that means you messed it up. You'll find this Kween grinding on Kelly to Sia or Beyonce!
Liam Moore - Flower Boy
This wild man needs no introduction, Buzz has always been phenomenal at two things. 1. Having fun while making sure all those around him are doing so as well. 2. Owning the spotlight; which is perfect for his next role as Flower Boy/Ring Bearer!
Lucy Lynch - Ring Bearess
This Tornado does not take crap from no-one; my intelligent, beautiful, and strong Goddaughter will be Liam's body guard/ Ring Bearess as they walk up.